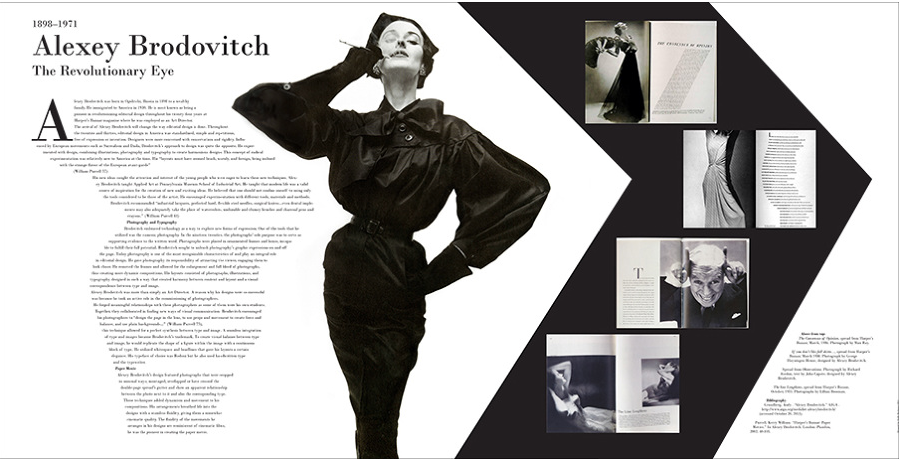 Alexey Brodovitch
Alexey Brodovitch was a photographer, designer and teacher. However, he was most famous for his art direction, primarily for the magazine Harper's Bazaar. He spent his early life in and out of the military before spending time in Paris, which is where he began his career in the graphic arts. His first major success came after winning a poster competition for a local theater, the 2nd place poster was created by Picasso.
Brodovitch utilized the talents of many photographers while at HB, often changing between them without notice.
He spent a total of 15 years working for the magazine and provided art direction for much of its content, until he left due to declining health (the story of his resignation varies between an amicable separation to a violent uproar after being confronted with his alcoholism). His style of combining elegantly set typography with new and experimental trends in photography became widely popular in the 1940s and 50s and helped to keep the magazine at the forefront of its field in a swiftly changing world.
He also helped to direct a short-lived, but influential, American art and design publication titled Portfolio. The creators had hoped that the quality of the content and its production value would attract enough readers, but it could not overcome the cost of its publication and it was not long before it went under. Brodovitch also created a book title Ballet, which, at the time of its publication, included photographs that were quite controversial due to their use of motion blur. Nearly every project that Brodovitch worked on was met with success and he left a lasting impression on every one of his colleages, students and co-workers.
Even after his death Brodovitch was met with success and was awarded an honorary doctorate and inducted into the Art Directors club Hall of Fame posthumously.
RECOMMENDED READING:
Alexey Brodovitch
by Kerry William Purcell
References and More Information:
AIGA
Icon of Graphics
Art Directors Club Hall of Fame
Alexey Brodovitch by Kerry William Purcell